This article has been reincarnated to a Shield Hero!
This wiki requires cleanup and is currently under construction. You can help The Rising of the Shield Hero Wiki by improving it to match the wiki's layout guide and standards of the wiki.

Welcome to the The Rising of the Shield Hero Wiki!

Warning! Articles in this wiki are likely to contain spoilers from the series! Read at your own risk!
Synopsis

| | |
| --- | --- |
| Naofumi Iwatani is summoned to another world to become one of the four heroes, namely the Shield Hero. Starting out with poor popularity and labeled as the weakest, Naofumi found himself betrayed on the third day of his adventure. Having losing faith and money, all that left is just his shield. Vowing to exact revenge to those who had betrayed him, Naofumi's path is...... | |
Characters

Featured Article

| | | |
| --- | --- | --- |
| | Raphtalia (ラフタリア Rafutaria?) (also ambiguously translated as Raftalia) is a Tanuki-type demi-human who was the first real member of the Shield Hero's party after he purchased her as a slave. She is now the Katana Hero (刀の勇者 Katana no Yuusha?). She generally uses a sword and illusion (Light and Dark) magic but began to be able to use a wider variety of magic types after her Class Up. She was able to study magic under the tutelage of the Melromarc's Court Magician and later went with Granny to study and become a master of Hengen Musou. Read more... | |
Contribute to this Wiki!

We have a lot of content on this wiki. With your help, we can make it even better.
For new editors, be sure to sign up for a free account. There are many benefits for doing so, as seen here. After that, you can get started and help out by editing typos, work on article stubs or leave feedback in comments and talk pages. You may also consider creating wanted pages.
If you need help, you can refer to the Help pages, FANDOM University or ask an admin.
Are you an experienced editor? Check out the Community Page or Special pages to see which areas of the wiki are in need of help.
Affiliated Sites

Please read the requirements before requesting affiliation with the wiki.
Poll

What are your thoughts on the series so far?
Official Channels

The Rising of the Shield Hero Wiki has its own official Discord and Subreddit server. Click on the respective icons below to join us or connect using the server.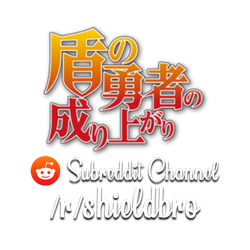 Latest Episode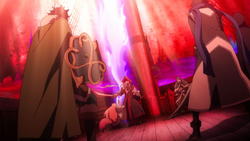 Catastrophe Returns
The heroes faces the next calamity at the remote village. Thanks to the help of the volunteers, the safety of the villagers was secured. However, there is no sign of 'Wave' dying down. Naofumi and his team find the other heroes fighting the monster on a ghost ship with little success and no coordination among them.

After belittling them, Nafoumi takes matters into his own hands and succeeded in defeating the boss of the wave or did they really win?Read more...
Latest Volumes

Twitter Feeds