This is the seventh volume of the The Rising of the Shield Hero light novel.
Synopsis
Naofumi and his friends defeat the Spirit Tortoise after it rampages across the country. They leave in search of the other missing heroes and meet Ost along the way, who says she is one of the Spirit Tortoise's servants. She tells Naofumi that the Spirit Tortoise is still alive and that someone is pulling the strings to use the tortoise to destroy the world! Can Naofumi protect those he loves from this new danger?
Chapters
Prologue: "The Search"
Chapter One: "Helping Others"
Chapter Two: "Spirit Tortoise Familiar (Human Type)"
Chapter Three: "The Spirit Tortoise Reawakens"
Chapter Four: "Spirit Tortoise Tyrant"
Chapter Five: "Mass Destruction"
Chapter Six: "Versus the Spirit Tortoise**ChapterOpening Stages"
Chapter Seven: "Buying Time"
Chapter Eight: "The Search"
Chapter Nine: "The Spirit Tortoise Cave"
Chapter Ten: "Strangers"
Chapter Eleven: "The Heroes' Inscription"
Chapter Twelve: "The Spirit Tortoise's Heart"
Chapter Thirteen: "Who Pulls the Strings"
Chapter Fourteen: "Liberation"
Chapter Fifteen: "The Spirit Tortoise's Soul"
Epilogue: "Ost Horai"
Extra Chapter: "Searching for the Soul-Healing Water"
Illustrations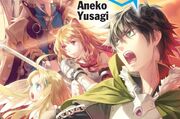 Adaptation Notes
Differences from the original web novels