Cobra Kai Season 4 - The Loop
Play Sound
This is the second volume of The Rising of the Shield Hero light novel.
Synopsis
Naofumi Iwatani continues his adventure in this second volume. But his task is not yet complete and obstacles mount as the increasingly ominous waves of destruction approach. He finds a new friend and new powerful abilities that may prove to be too dangerous for the companionship. Will Naofumi live up to his role as the Shield Hero and save the world from its prophesized destruction? Or will his dark side consume him?[1]
Chapters
Second Wave Arc
Filo Rial Arc
Chapter One: "Egg Machine"
Chapter Two: "Gratitude for Life"
Chapter Three: "Filo"
Chapter Four: "Growth"
Chapter Five: "Kick and Run"
Chapter Six: "Wings"
Chapter Seven: "Transformation"
Chapter Eight: "Carrot and Stick"
Chapter Nine: "Rewards"
Chapter Ten: "Traveling Merchant"
Chapter Eleven: "Travel by Carriage"
Peddling Arc
Chapter Twelve: "Rumors of the Heroes"
Chapter Thirteen: "Take Everything but Life"
Chapter Fourteen: "Magic Practice"
Chapter Fifteen: "Why it Was Sealed"
Chapter Sixteen: "Invading Vines"
Chapter Seventeen: "Improving the Product Line"
Chapter Eighteen: "Diseased Village"
Chapter Nineteen: "Curse Series"
Chapter Twenty: "The Shield of Rage"
Epilogue: "As a Shield..."
Extras
Special Extra Chapter: "Presents"
Illustrations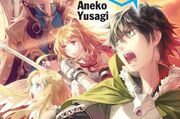 Adaptation Notes
Differences from the original web novels:
References