This is the fifteenth volume of The Rising of the Shield Hero light novel.
Synopsis
After the successful revolt in Q'ten Lo, Naofumi returns to his village headquarters. Meanwhile, things in Melromarc continue to deteriorate, so he sets out to restore public order before strengthening his village residents. Now, with more allies than ever, Naofumi is faced with deciding who will participate in the battle against the Phoenix. Not everyone agrees with his choices. "I can't guarantee I'll be able to protect all of you. Knowing that, if you're not confident you can make it back alive, then don't come!" A difference of opinion causes friends to butt heads, but their bonds only grow stronger as a result. And then the day that everyone has so painstakingly prepared for arrives-the Phoenix finally appears! But a completely unexpected turn of events awaits. Naofumi is doomed to experience unthinkable grief in volume fifteen of this otherworldly fantasy![1]
Chapters
Information to be added later on.
Illustrations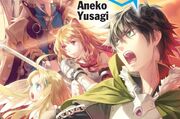 Adaptation Notes
Differences from the original web novels:
Information to be added later on.
References
Community content is available under
CC-BY-SA
unless otherwise noted.