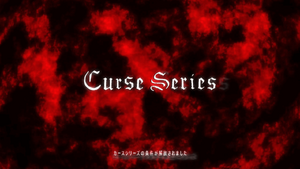 The Curse series is a series of weapons unlocked in the Legendary or Vassal Weapons based on the seven deadly sins. They are unlocked with an extreme psychological state and are considered a defence mechanism within the weapons.
Overview
At the point when a blast of feelings equal to the obliteration of one's heart is conjured, a power coming from the Curse Series is unlocked. The Curse Series is in actuality founded on the seven deadly sins: Gluttony, Lust, Greed, Wrath, Sloth, Envy, and Pride.
While these weapons hold great power, they also degenerate the personality of their user. For example, whenever Naofumi utilized the Wrath Shield he was overwhelmed by unadulterated disdain and apathy for others. On the rare chance that the cursed is overwhelmed by positive virtues within the user, the Bless Series is unlocked.
Naofumi believes that the curse series is an intentional defence mechanism within the Legendary and Vassal Weapons to protect the wielder whenever they suffer from an extreme psychological issue to prevent further damage.[1] Using these weapons result in a both a psychological and physical curse upon the user. For example, Naofumi has his ability to empathize suppressed after he unlocked the Wrath Series and his stats, except for defense, were dropped by 30% after using his cursed abilities. The physical curse will heal over time and can be aided by using hot springs but the psychological effects are much harder to resolve. In Naofumi's case, he was only completely free of the curse after he unlocked the corresponding Bless Series shield which suppressed the Curse Series.[2]
Known Users
Legendary Heroes
Vassal Heroes
Glass: Glass was about to use a curse series weapon against one of the vanguard of the waves which had stolen L'Arc's Vassal Scythe. However, Naofumi arrived in time to prevent her from using it.
The enemies behind the wave has the technology to interfere with Vassal and Legendary weapons. With their accessories, they are able to suppress the weapons and given them to unworthy wielders. They have also found a way to use curse series weapons without the negative side effects.[10]
Gallery
References